Female Martian currently living in Eagleland.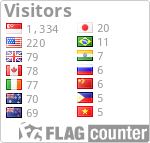 Number of parking tickets given to former Soviet embassy employees in Washington, D.C. that remain unpaid: 50,693.

The first time I came across this fact, I posted it on Livejournal, where I had a lot of Russian followers at the time. They responded wonderingly: "What's a parking ticket?"

Then they laughed at the idea of anybody paying the government money just because of a piece of paper. Turns out, in Russia, they just tow your car.
I'm always disappointed when someone has this ethnic/national/sexual identity identifier in their blog title and they turn out to be…not that identity.
The buzz word in popular feminism today is empowerment. When I became a feminist many years ago, the word we used was liberation. Unlike empowerment, liberation is a collective concept which means that even if my life is all rosy and "empowered," it doesn't mean shit for those women who are doing low paid jobs while trying to raise families. In fact, there is a very good chance that elite women's empowerment is built on the backs of other women whose exploited labor provides the goods and services that enable a good career and a comfortable lifestyle. The low pay of nannies, cooks, cleaners, sweat shop workers, and day care providers means that wealthier women are freed up to make a salary that no doubt does feel empowering.
It gets freezing cold in Seattle but then it gets warmer when it rains so it's soggy instead of white christmas.
*tags one post NSFW*

ASSTITTYBUTTFUCKSLUTS IS NOW FOLLOWING YOU

PROLAPSEDMILFANUSES IS NOW FOLLOWING YOU

TAKINGGIANTDICKSINMYNOSTRILS IS NOW FOLLOWING YOU

ASIANTEENCAKEFARTS IS NOW FOLLOWING YOU

LESBIANNIPPLECUNT IS NOW FOLLOWING YOU
tbh one of the most ridiculous arguments I've seen on Tumblr is saying that using "kawaii" is cultural appropriation
I really like Pokemon because it never stoops to cheap fansservice.
It cuts out that crap and focuses on what's most important: having your colorful cartoon animals fight each other.
*semi-popular cartoon from 1997 with semi-sexual reference* THIS SHOW GAVE ZERO FUCKS

*cartoon from 1998 that had a guy in a dress played for laughs* BREAKING GENDER BARRIERS SINCE 1990 
At least 7,776 languages are in use in the greater offline world … Less than five percent of languages in use now exist online.
I started watching a trashy, trashy anime.